Hoop Earring Highlight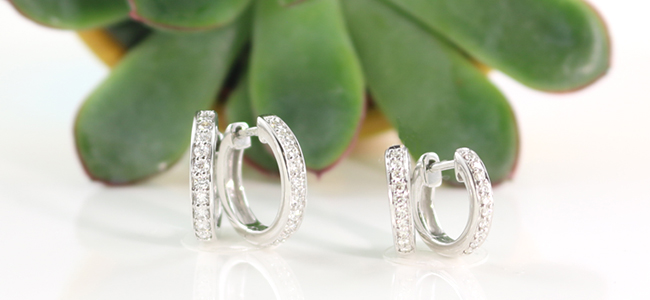 Hoop earrings
When it comes to selecting the perfect diamond earrings, either for yourself or as a gift, the diamond hoop is a style that is both entirely modern and reassuringly timeless. The tradition of the hoop earring originates from as far back as the Minoan civilisation around 2000 BC. During the English Renaissance in the 16th century Gentlemen, courtiers and poets adopted the fashion for a single hoop earring – including our much loved bard William Shakespeare himself. The fashion for gold hoop earrings really found favour in 1960s and 1970s with the classic large gold hoop earrings. The hoop earring of today takes many forms from Boho to office chic.
Luxury Diamond Hoop Earrings
For a touch of every day luxury, it has to be diamond hoops. Select from the With every stone selected and set by hand, our jewellery is designed to be loved and worn for a lifetime.
Dressed up or down, hoops are a classic cornerstone of any jewellery collection, and the addition of dazzling diamonds lifts these to special occasion status. They make a great gift for anyone who appreciates a touch of luxury in their everyday style.