Quartz Gem Stones
Quartz is a gemstone created naturally in a wide spectrum of colours including oranges, pinks, greens purple and brown.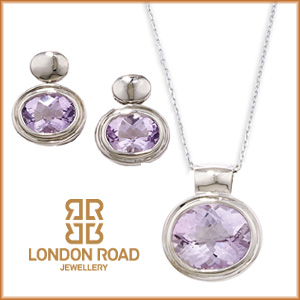 Quartz is a gemstone created naturally in a wide spectrum of colours including oranges, pinks, greens purple and brown. Quartz is one of the most important minerals on earth and is one of the most sought after gemstone groups of coloured stones in the world. Quartz is an essential constituent of granite rock, and also very common in sandstone and shale. The largest documented single crystal of quartz was found in Brazil and measured 6.1×1.5×1.5 m and weighed more than 44 tonnes.
Popular colours of quartz gem stones include citrine, rose quartz, amethyst and smoky quartz which are commonly used for making jewellery, especially in Europe and the Middle East. Quartz is derived from the German word 'quartz', which originated from the Slavic and Polish words meaning 'hard.' Measuring 7 on the Moh's scale of hardness, quartz is perfect for cutting into fabulous shapes. London Road Jewellery include many quartz gem stones in their collections where the very best stones are chosen by hand for their quality of colour and their ability to reflect light.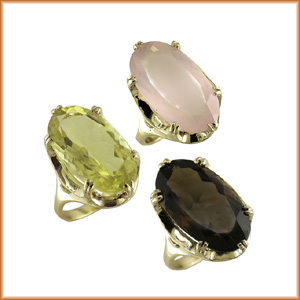 Amethyst is a popular form of quartz that ranges in colour from light pink to deep purple. The very best amethysts can be found in Siberia, Sri Lanka and Brazil. Amethyst has been worn by medieval European soldiers as protection in battle in the belief it would heal people and keep them cool headed. The London Road Bloomsbury collection includes brilliant cut amethyst pendants and matching earrings. The Coronation collection includes quartz with faceted surfaces. This type of cut is called chequer board. The stones are set in a simple 4 claw to reveal the full beauty of the stones.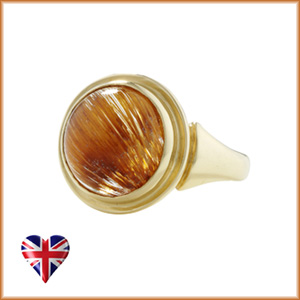 Rose Quartz has a pale pink to rose red hue which is can be translucent or milky in appearance. The colour is usually due to the presence of titanium, iron or manganese. Most rose quartz crystals are sourced in Brazil. The London Road rose quartz cocktail ring from the Bloomsbury collection is a very elegant piece of jewellery that is quite stunning. A beautiful soft coloured oval stone set in a scalloped yellow gold bezel.
Rutilated Quartz is clear and contains needle like inclusions which may be red, black or yellow and have a metallic luster. The Sloane collection includes exquisite cabochon cut grey brown smoky quartz and a very chic orangey brown rutilated quartz.