Join the pearly royalty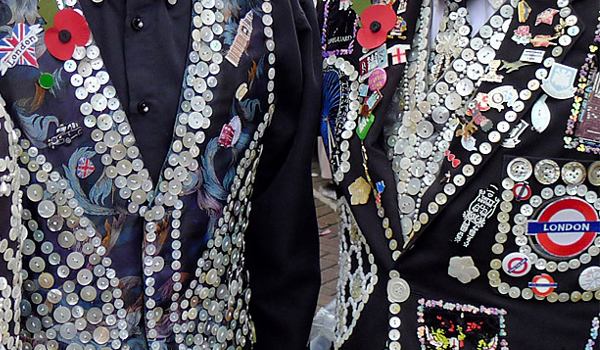 For over one hundred years the "Pearly Kings and Queens" of London have gathered at harvest time to parade their intricate costumes and raise money for good causes.
A tradition unique to London, the pearlescent buttons painstakingly stitched onto dark suits make a striking spectacle and commemorate a charitable tradition started by an orphan street sweeper, Henry Croft, who made his first costume from buttons and scraps he'd swept up from the floor of the market.
Affectionately known as the "pearlies", the families who continue the tradition hail from Boroughs across London. This Sunday saw the annual Pearly Harvest take place in the City of London – you might have caught a glimpse of the distinctive costumes on the news over the weekend.
At London Road we treasure our collection of pearls. Mary Berry was spotted in a pair of our pearl earrings recently, but it's not just lovers of classic styles who are drawn to these beautiful and elegant pieces.
We've given them a modern, playful rework with pieces like this willow pearl pendant, with the organic woven frame housing nine tiny pearls:
Pearls don't necessarily mean pinks and pastels, either. These earrings feature an unusual peacock grey set of cultured pearls in a white gold setting. The lustre of pearls is given a new twist – a beautiful way to update a classic white shirt or a little black dress.
https://www.londonroadjewellery.com/product/classic-white-gold-grey-pearl-bead-drop-earrings/
Or for a very different take, with autumnal colours perfect for the coming season, how about the bronze pearl in this gold ring?
https://www.londonroadjewellery.com/product/modern-rose-gold-bronze-pearl-ball-ring/
It's a subtle way to add colour to an outfit – bronze is striking against navy, and modern when contrasted with other pieces, perhaps offsetting other gold rings or bracelets.
Once seen as old fashioned, a new generation of women are embracing their easy charm. Michelle Obama, Kate Middleton and Keira Knightley are among the modern icons bringing fresh style to these classics.
Flattering and timeless, pearls are enjoying a renaissance. Add some to your own jewellery collection and you might find yourself surprised at how often you find yourself reaching for them to give your look the finishing touch.
London's pearly royalty would no doubt approve…