Garnet Gemstones – January Birthstone
Gemstones have fascinated mankind since the beginning of time.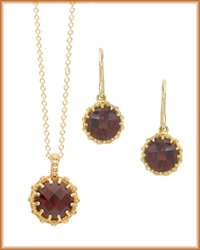 Gemstones have fascinated mankind since the beginning of time. The red garnet has been a favourite of jewellers for its dense vibrant colour. Featuring in many pieces from both Roman and Egyptian civilizations where rings were used for ceremonial purposes by the ruling elite. Today these precious stones remain as popular and continue to be set in contemporary styles of current trends.
Natural garnets occur in a wide range of colours including orange, yellow, green, peach, purple, pink and brown. The gemstones are glassy in appearance allowing the stones to be cut into beautiful shapes to show off their brilliance and sparkle.  The gemstones are frequently worn as pendant necklaces, stud and drop earrings and stunning rings, all jewellery box classics sure to stand the test of time. Over two decades ago a garnet cabochon set into a flower brooch from the Jackie Kennedy Onassis estate reached over $100,000 dollars at Sotherbys.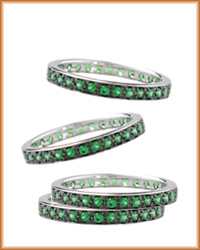 Coloured gemstones grace red carpets world wide with stars including Scarlett Johanssen, Kate Beckinsale and Helen Mirren choosing fabulous scarlet red gemstone accessories. London Road Jewellery include the fabulous stones in several of their contemporary collections. The Coronation Collection includes a ring,
pendant necklace and earrings with round chequer cut garnets set in fabulous gold crown settings. The tsavorite garnet stack ring has vibrant green stones sparkling out of a white gold and black rhodium setting. The full eternity ring is perfect worn on its own or stacked together with blue topaz and cappuccino coloured diamonds.
The ever popular London Road Jewellery Bubble Collection includes beautiful cabochon cut garnets in rich reds set in rose gold. Stud and drop earrings, bubble stack rings and pendant necklaces can all be bought online or in exclusive stores across the UK. The Bubble Collection is perfect for mixing up colours to create a stylish and fun look.
Garnet is the January birthstone which is believed to mean perseverance, truth and patience. The garnet signifies friendship and trust making it the perfect gift for a friend. London Road Jewellery have created a contemporary garnet birthstone flower necklace with a garnet set to the centre of five petals.  Each piece of the collection is finished by hand at their London workshop making each piece unique.