Essential jewellery pieces for Autumn 2016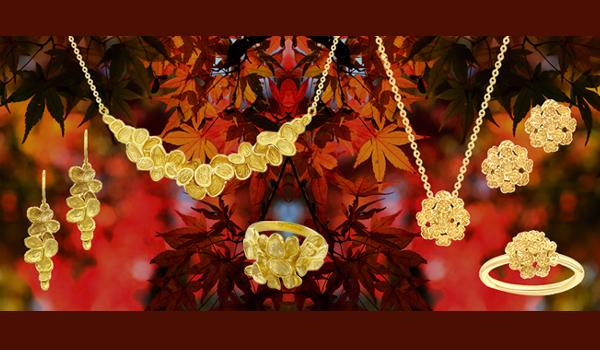 As the leaves fall and the temperature drops, Autumn's blaze of colour reminds us winter is just around the corner, and we've chosen the perfect pieces to keep a smile on your face even when the skies are glum.
From Hyde Park to Hampstead Heath, this is the time of year when Londoners wrap up warm and make the most of the spectacular sunsets and gentle Autumn light. Adding a little something different to your daily style, with quirky accessories in soft golds to compliment the season, is the perfect way to bring a bit of light to the darker evenings.
Snuggled into scarves and sweaters, the natural textures of our Kew collection are the perfect way to add a glimmer of interest to chunky knits and soft cashmeres.
This falling leaves bangle in soft yellow gold recalls the drifts of crunchy leaves we see gathering in parks and lining pavements in London at this time of year.
https://www.londonroadjewellery.com/product/exclusive-falling-leaves-bangle/
It's the perfect compliment to an elegant bracelet length sweater, or a dark winter floral print.
This season's trend for luxe, touchable textures like velvet and shearling call for jewellery that echoes these beautiful finishes.
This necklace features delicately detailed leaves, worked in fine yellow gold, to add an elegant, organic touch to your everyday style.
Another trend that we loved from this season's catwalk is statement earrings, in a whole spectrum of sizes, materials and textures from acrylic to metallic.
These raindrop yellow gold earrings are a nod to this trend without looking over the top at the office or on a special evening out. (Bonus: the brilliant cut diamonds suspended on fine gold chains are a nod to some of the punk detailing also coming into play this season.)
https://www.londonroadjewellery.com/product/bespoke-raindrop-gold-diamond-earrings/
As the days get shorter and the evenings get longer it's time to start looking ahead to the party season and all that glitters – we can't wait to start getting dressed up for evening events and gatherings with family and friends.
In the meantime, the warm reds and russets of the ever-changing trees, and the incredible colours lighting up the city skies each night, are enough to put a spring in our step even when the cold has us reaching for an extra layer.