CHELSEA FLOWER SHOW
Stylish Accessories for the Chelsea Flower Show
Stylish Accessories for the Chelsea Flower Show
This year key trends at the show will see the use of natural materials, combined with intense colours in planting. The Chelsea Flower show symbolizes the start of the summer season of glorious colour and exceptional exhibits. The show has several exhibits of wild flowers with one of the most talked about this year being the Sentebale Garden, in which Prince Harry has had an active involvement. The wild gardens are expected to receive a few extra visitors, including bees and butterfly's. London Road Jewellery have designed a glamorous Bugs Collection which includes Bee, Butterfly and Dragonfly pendants in 9 carat yellow gold with black diamond eyes and textured rhodium wings.
The show is regarded as a tremendous social occasion with many regarding it as a cocktail party. The show has many celebrity visitors including Princess Beatrice, Prince Harry, Gwyneth Paltrow and Sienna Miller, all looking incredibly chic and stylish.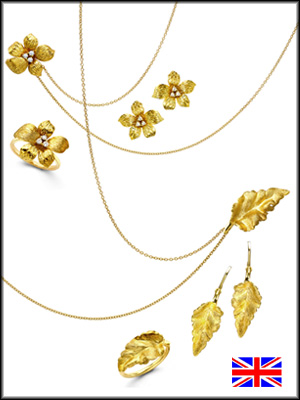 Trends at the Summer Show are often inspired by the English garden. Edgy prints, laser cuts and appliquéd flowers, teamed together with fine English jewellery. London Road Jewellery produce beautiful pieces of contemporary jewellery, on trend for the Chelsea Flower Show. The Rose Gold Diamond Lily collection is perfect for adding a little flora to city chic. The Rose Gold Diamond Lily Ring is simply stunning and would be the perfect accessory when drinking champagne! The textured petals in rose gold surround three diamonds to the centre. The collection also includes a Pendant Necklace and earrings. The Kew Collection from London Road Jewellery also includes a beautiful falling leaves collection. Elegant concaved gold leaves wrap across the wrist of the bangle and over the finger of the ring with a polished and textured finish giving a wonderful luster. The falling leaves collection also includes a pendant necklace and drop earrings in a rich golden yellow finish.