Diamond – April Birthstone
Diamond is the traditional birthstone of April and is regarded as the most coveted gemstone.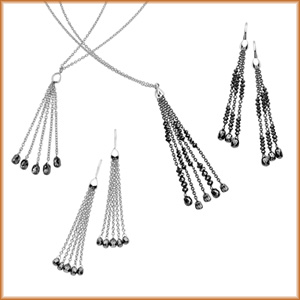 Diamond is the traditional birthstone of April and is regarded as the most coveted gemstone. The diamond holds a significant meaning for those born in April and is thought to mean purity, innocence, eternity and courage. It is also symbolic of eternal love.
Diamonds are available in a range of colours including steel grey, black, blue, green, pink, red, orange, yellow and cappuccino. The colour is dependent on the impurities that are present in a stone. Blue diamonds have minute traces of boron whilst yellow gems have traces of nitrogen. A chemically pure and structurally perfect diamond is perfectly transparent with no colour.
The impurities in a diamond can enhance their desirability and value. Intense pink and blue diamonds can be considerably more valuable. The Hope Diamond, also known as "Le Bijou de Roi" ("the King's Jewel") is a large 45.52 carat deep blue diamond. The Hope Diamond has been describes as the "most famous diamond in the world."
London Road Jewellery stock a fabulous range of diamond jewellery perfect for an April birthday in a range of colours including colourless, black and a rich cappuccino. The diamond blossom April birthstone pendant has a sparkling brilliant cut diamond set to the centre of a 9ct yellow gold flower shaped setting. Full eternity stack rings are beautiful when worn on their own and quite stunning when stacked together. The sparkle of the white diamonds set in white gold together with the rich hue of the cappuccino diamonds set in yellow gold and the density of the black diamonds set in white gold with a special black rhodium finish is quite unique.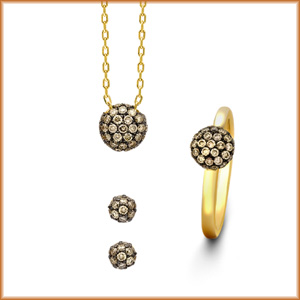 The diamond ball collection is also available in white, cappuccino and black diamonds. The collection includes earrings, ring, and a pendant necklace with pave set sparkling diamonds.
London Road Jewellery guarantees that it only uses conflict free diamonds from suppliers who are trading within the Kimberley process.
In 2003, The Kimberley Process was set up by Governments of the world to enable the purchase of guaranteed conflict free diamonds, by controlling the flow of rough diamonds through a certification scheme which documents shipments of rough diamonds. Conflict Free diamonds have been purchased from legitimate sources which are not involved in the funding of armed conflict.