Summer of Love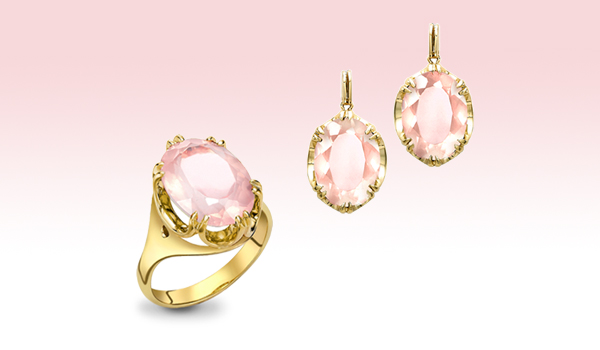 Last week's full moon falling on the summer solstice was the first since 1967, and with Glastonbury festival just passed we're embracing our inner hippie and sinking into that "summer of love" feeling.
Today we're looking at one of our most beautiful stones, the delicate rose quartz, and digging into what makes it such a perfect summery staple in any jewellery collection.
Of course there's nothing wrong with choosing jewellery just because it looks fabulous, but drawing on these associations can be a beautiful way to choose a memorable gift – for you, or someone close to you.
This stunning cocktail ring is part of our Bloomsbury collection, and is a beautifully feminine way to set off casual summer outfits – and spread some good vibrations.
The Bloomsbury area of London has always been associated with bohemian ideas, giving its name to the Bloomsbury Group of free thinking artists and writers at the beginning of the twentieth century.
This collection is striking and colourful; perfect for a woman in touch with her creative side who's happy to stand out and show some flair. Maybe she already has a collection of crystals on her windowsill; now she can connect to the qualities that inspire her through fine jewellery too.
So what makes this such a powerful stone? Rose quartz, with its soft pink tone, has long been associated with femininity and grace. In ancient times it was used in face masks, as it was thought to have beautifying properties. Some people consider rose quartz to have protective powers, soothing and calming those around it and shielding the wearer from stress or negativity.
First and foremost, rose quartz is associated with love and esoterically it's linked to the heart chakra, symbolising relationships from romantic to platonic and familial love. Jewellery containing rose quartz makes the perfect gift for anyone wishing to strengthen or deepen love relationships: a partner, or perhaps a treasured friend. Conversely, if someone you know has recently been through a tough break up it might help cheer them up and help heal a broken heart.
One beautiful way to use rose quartz is as a symbol of self-love for someone who needs to learn to appreciate themselves more. If someone close to you is always caring for those around them and doesn't always give themselves the love they need, then these pieces would be a beautiful way to encourage them to carry some of their own caring heart with them.