Perfect Valentines Day Jewellery
With Valentines day just around the corner, it's all about finding the perfect gift.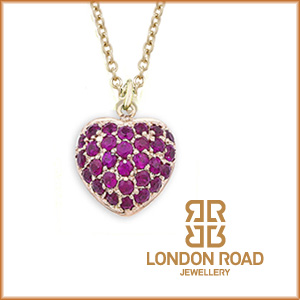 With Valentines day just around the corner, it's all about finding the perfect gift. Will it be an old classic of a dozen red roses, a box of Belgian chocolates or maybe a little fizz with bottle of champagne?
Maybe you would like to take some Valentine gift ideas from the stars,
In 2009 Jay Z bought Beyonce a Platinum covered mobile phone costing $24,000
In 2012 Angelina Jolie bought Brad Pitt a 200-year-old Olive tree for their French Chateau. The ancient tree cost id="mce_marker"8,500
Katy Perry purchased a lilac coloured Bentley Brooklands for her husband at the time Russell Brand, for $341,000
Courtney Cox gave David Arquette a vintage carousel horse as a valentines gift
Whilst some people have mixed feelings about valentines day, at the end of the day, every woman is a romantic at heart and likes to feel cherished. Jewellery is the ultimate valentines day gift as it's a sentimental keepsake that can be admired for years to come.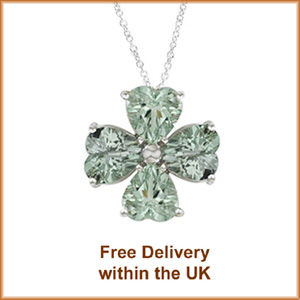 London Road Jewellery has a stunning collection of jewellery perfect for valentines day. The modern Four Hearts Green Amethyst necklace from the Bloomsbury collection is sublime. Four heart shaped green amethyst are set in white gold with the points meeting to create a sparkling flower. This style necklace is also available in blue topaz and lemon quartz.
If you are shopping for a fashionista, the Rose Gold and Ruby Pendant Necklace is very stylish and of the moment as catwalks and magazines are bursting with bright colours. The domed heart shaped pendant is pave set with fine brightly coloured rubies. The back of the pendant has a beautiful intricate pattern pierced out of the rose gold.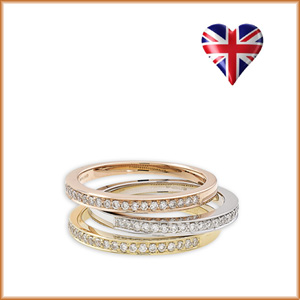 Valentines day is not all about young love and new romances, it's also a great time to show somebody how valued they are after many years together. A perfect gift of love is the timeless eternity ring. The Diamond Half Eternity Stack Rings from the Soho stack ring collection at London Road Jewellery are available in 18 carat rose gold, yellow gold and white gold bands set with brilliant cut diamonds. The beautiful rings can be purchased individually or as a stack, worn together. The multi coloured  Rope Stack Rings look quite fabulous when stacked together. The rose gold, yellow gold and white gold rings are available individually or as a stack.
If you are planning to dazzle with diamonds, the Diamond Open Hearts Ring will most certainly impress. The 18 carat white gold ring has two open hearts set with 48 brilliant cut diamonds, set by hand at London Road Jewellery.