London tales: Soho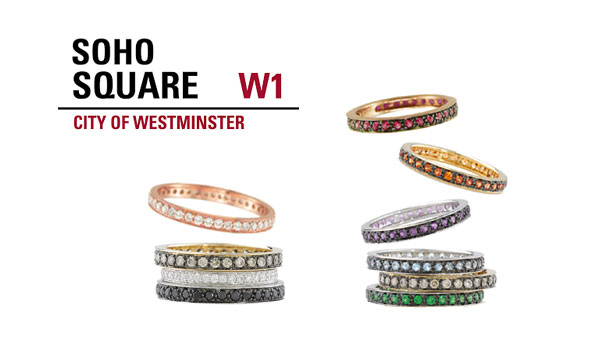 Seedy, edgy, creative, sexy… ask any Londoner what Soho means to them and you'll likely hear one of these words in their reply. So how did this tiny tangle of alleyways come to play such a huge part in London's cultural scene, and inspire one of our favourite collections here at London Road?
In the words of PD James,
"You see it as you wish. An agreeable place to dine; a cosmopolitan village tucked away behind Piccadilly with its own mysterious village life, one of the best shopping centres for food in London, the nastiest and most sordid nursery of crime in Europe."
Tucked between the bright lights and glitz of the West End and the spacious walkways of Covent Garden, Soho has many a tale to tell; its reputation swings from bohemian glamour to disreputable slovenliness and everything in between.
In the eighteenth century it was known as the French Quarter due to the influx of Hugenot immigrants; its outsider status and bohemian fabric already beginning to be formed.
It was in the twentieth century, however, that Soho really began to come into its own as a glittering jewel of creativity and sin hidden within the vast capital.
In the 1930s jazz arrived here first in Britain, a tradition cemented by Ronnie Scott who opened his own notorious bar in Gerrard Street in 1959.
Like the stutter and tumble of freeform improvisations, the stacked rings of our Soho collection are designed to be interchanged and mixed; clashed and tumbled together by the wearer.
https://www.londonroadjewellery.com/product/designer-white-gold-tsavorite-cappuccino-diamond-and-blue-topaz-stack-rings/
The free-thinking improvisers of the smoky jazz bars were followed by beatnik poets and later the rock and roll scene: David Bowie, the Rolling Stones and Led Zeppelin all performed and recorded in the tiny, sweaty venues that dotted the area.
It wasn't only musicians who drew inspiration from these streets. For hundreds of years Soho has been a home for visual artists, from John Constable to the anarchic characters representing the quintessential rebellion and excess of the best British art, Francis Bacon and Damien Hirst.
From deepest blue topaz to rich purple amethyst or striking orange sapphires, there's nothing watered down or grey about the pieces in this collection.
The pops of colour speak of England's artistic heritage and London's unexpected flashes of brightness in the gloom, from the traditional red Routemaster buses to the amber glow of a taxi light in the rain.
Soho brings a proud heritage as a site for rule breaking and self-expression; the heart of the city's sex industry and of London's thriving gay scene, repressed and discriminated against for so many decades.
It refuses to be bound by rules or conventional tastes; it's a place to run wild, to let your true colours shine, to cast aside expectations, embrace your fantasies and reinvent yourself – and all within the gritty, grey structures of London's ancient streets.
Hammered textures and polished gems; white gold and black diamonds; contrasts and unexpected flashes of glamour and delight.
https://www.londonroadjewellery.com/product/exclusive-white-gold-black-diamond-stack-ring/
These rings are made to be worn casually and confidently; a glitter to wink at the wearer and remind her of the creativity that burns beneath the surface; of pockets of genius and flames of passion that lurk in unexpected places.