Gatsby
Glamour and Glitz of Gatsby
Glitz, glam and opulence are in style following the release of the fabulous film, 'The Great Gatsby.' Set in the 1920's during an era of bespoke fashion, luxury, sparkle and shine the scenes are filled with stunning jewels.
The catwalks of 2012 were filled with Twenties silhouettes and deco details which are now being seen on red carpets globally. Stars are creating their own signature 20's style choosing key pieces of striking jewellery to complete their look.
London Road Jewellery have several 1920's inspired pieces in the collection including the stylish handmade Baroque Pearl Opera Necklace. Freshwater pearls are interspersed between yellow gold oval links adding a contemporary touch to a timeless classic.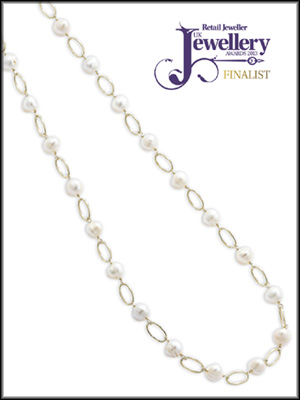 If you are all about pearls, the classic Long Teardrop White Pearl Necklace is simply perfect. The 36 inch long necklace of white freshwater pearls features delicate round pearls strung together with fine gold links. 11 larger pear shaped pearls are interspersed through the length of the necklace.
Beaded fringes are featuring prominently on the catwalk, and high street with dresses gleaming with intricate beadwork embellishing stunning cocktail dresses. The London Road Jewellery collection includes the most elegant deco style Long Tassel Necklace in a black onyx, shimmering Labradorite and garnets the colour of berries. Each necklace is a string of glittering stones with a polished cap of gold, from which eight beaded tassels are suspended. A stylish and elegant necklace that is rather fun, capturing the spirit of the 20's.
Statement accessories can be used as an unabashed luxury for everyday wear. The contemporary Long Pearl and Gold Disc Necklace is perfect for wearing with an occasion dress one day and a t-shirt the next. The long gold chain has 18 beautiful fresh water pearls in hues of white and blush. The Jazz Age was a time where glamour ruled, and who doesn't love a little sparkle and shine.