January 8, 2020
Garnet Jewellery for January Birthdays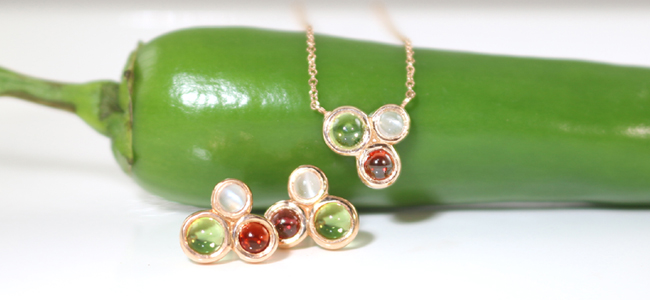 The meaning of the garnet birthstone
Those lucky enough to be born in January have the semi-precious gemstone garnet as their birthstone. The most notable properties of the garnet birthstone are thought to be its ability to heal and purify.
A symbol of vitality and passion, garnet is believed to promote a healthy flow of energy in the body and offer protection to the wearer. The name "garnet" comes from the pomegranate fruit, whose red seeds share the gorgeous crimson glow of the stunningly bright garnet.
Jewellery gifts for garnet birthdays
In search of the perfect thoughtful gift? You'll score some serious brownie points for choosing tasteful and timeless birthstone jewellery. Every gemstone is selected by our highly skilled gemologists for their individual quality and set by hand in our London workshop by expert Goldsmiths.
Some ideal personalised gift ideas for January birthdays…
Bright pistachio green, deep pomegranate red and striking iridescent moonstone make the unique Bubble Collection stand out as both fresh and playful – the perfect way to add a pop of colour to your everyday look.
The timelessly traditional signet ring, or pinky ring, has seen a contemporary reinvention in the London Road Birthstone Signet Ring Collection. The January Birthstone ring sees three sumptuous garnets set in a hallmarked yellow gold oval signet ring, with raised beaded edging. Shop the luxury birthstone signet ring collection.
The beautiful bubble-like cabochon cut of this garnet brings light in and creates the most vibrant splash of colour. Set in warm rose gold, this pretty ring has been designed for stacking or to be worn alone as a statement. Shop the Bubble Collection.
Birthstone Guide By Month
Not sure which birthstone you are? Visit the London Road Jewellery birthstone guide. Browse our two Birthstone jewellery collections – the totally contemporary Signet rings and perfectly pretty Blossom pendants come in every birthstone of the year.
Gift with confidence, knowing that our jewellery is designed and hand-finished in the UK in our London workshop, using traditional craftsmanship perfected over 70 years of jewellery making. All London Road Jewellery is designed to be loved and worn for a lifetime.