Celebrating tomorrow's entrepreneurs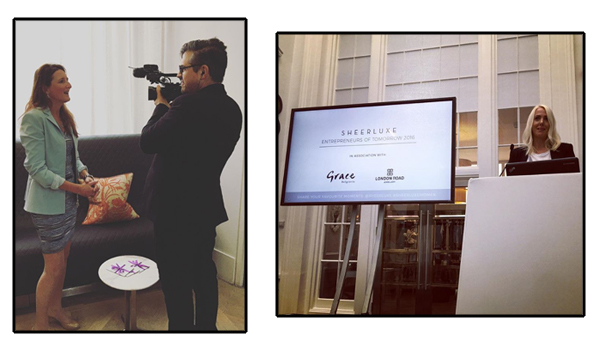 On 8th October London Road were delighted to sponsor Sheer Luxe's 'Entrepreneurs of Tomorrow' event.
As an independent jewellers we're proud to support the growing number of businesses doing things differently: led by women, driven by core values and not afraid to challenge more established corporate brands.
The insights from the entrepreneurs who attended were truly inspirational. Here we've compiled some of our favourite gems from the day…
Kara Rosen, founder of Plenish juices, pioneered healthy, cold-pressed organic juices in the UK. Her tips for others wanting to follow in her footsteps included remembering that you're selling a lifestyle; that the best loved brands are driven by a higher purpose, and the most important mantra for any small business: "Never compromise on product. Your brand is a promise."
Having secured 14 investors and a total of £400k from individuals to launch their luxury swimwear brand, Heidi Gosman and Penny Klein of Heidi Kein know a thing or two about growing a successful business. Their commitment to research saw them sitting outside a store counting those who went in and those who came out with bags! They shared their experience of the power of finding a mentor when growing a business, having been fortunate to receive pearls of wisdom from both Anya Hindmarch and LK Bennett.
Claire Hornby, founder of Me+ Em, reminded us of the importance of your company culture in creating a brand that will stand the test of time. In Claire's words, "Your culture is as important as your customers". Our strength as a family run business, with shared values and a loyalty and commitment to our business that makes us stand out, is something we're incredibly grateful for and it helps to be reminded of just what a key element that is.
Leonora Bamford of mybaba.com shared her technical expertise on running a successful website; essential for any modern business seeking to connect with its customers. And Tamara Heber-Percy MBE of Mr+Mrs Smith hotels shared her passion for high quality modern hotels and her tough journey to getting their first Mr+Mrs Smith book published.
(We're sure she'd agree with Margaret de Heinrich of Omorovicza, a beautiful skincare range derived from the ancient springs of Budapest, who told us "Tenacity will be the biggest driver of your brand"!)
At London Road, our strapline is "jewellery with integrity" and spending time in the company of these successful women was a reminder of just how important that big vision is. From our very first collection, our signature "Pimlico Bubble" pieces, we've sought to embody that belief, and we continue to embed it in every piece we make. This pendant features our signature colourful, high quality stones in a delicate handmade setting; no wonder it's one of our bestsellers.
We think the stylish entrepreneurs at Sheer Luxe's event would agree…