Blue is the colour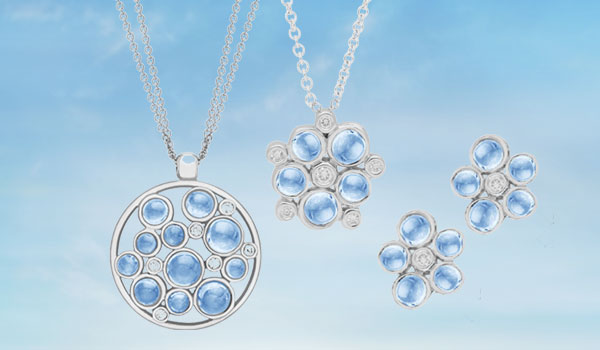 Blue is the colour of horizons; of deep seas and clear summer skies. Beautiful topaz, with its clear azure tone, is one of our favourite stones.
It adds a flash of striking colour as a simple standalone piece, for example in the white gold set cushion ring:
https://www.londonroadjewellery.com/product/designer-white-gold-cushion-blue-topaz-ring/
The kingfisher blue draws the eye to the striking curves of the cabochon cut stones in our pimlico bubble selection.
So, what are the properties and associations of this spectacular gem?
The stone is an ancient one, with a name which is said to come from the Greek word topazion, originating from the Sanskrit tapas, meaning, "fire." Natural topaz occurs in a range of colours including colourless clear stones (a large specimen was once mistakenly considered to be the largest diamond in the world!), pink, gold and yellow.
Topaz has been associated with values of truth and wisdom, perhaps due to its clarity and piercing colour. Blue is connected to the fourth (throat) chakra, associated with speaking honestly and sharing our thoughts openly.
It's said to help communication, which is perhaps what makes it such an appropriate stone to give on the fourth wedding anniversary. For a couple reaching this milestone, a piece of blue jewellery would make a beautiful way to mark the occasion and commit to truth telling and supporting each other to grow.
This beautiful blue stone is the birthstone for November, making it the perfect gift for the scorpios in your life, who are said to be fierce and passionate characters. Perhaps its tranquil colour will cool their fiery natures…
Topaz is a hard stone, making it a perfect symbolic gift for someone needing to tap into resources of strength and fortitude, perhaps moving through challenges in their career or personal life.
Intense colours like blue tend to draw us intuitively – if you're pulled towards the topaz pieces in our collection, trust that instinct and wear it proudly! It works well with cooler skin tones as well as looking striking against dark skin and hair.
From a psychological perspective blue epitomises trust, reliability and responsibility, but it has a playful side too. In our delicate raindrop earrings and matching necklace, the stones sparkle like drops of water in their rose gold setting.
Search "topaz" in our collections to see all of our current pieces featuring this beautiful stone.