Autumn leaves
Autumn is one of the most dramatic seasons for change.
Autumn Leaves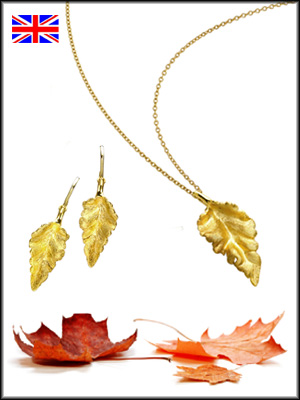 As the leaves on the trees are changing colour to fabulous hues from the brightest yellows and oranges to rich deep reds and chocolate browns, Autumn is one of the most dramatic seasons for change. Soon the leaves will begin to fall creating a spectacular display as paths and verges are carpeted in vibrant colours.
London Road Jewellery has added Layered Leaves to the ever popular Kew Collection. The layered leaves necklace displays six yellow gold leaves with textured finishes and fluted edges layered upon each other to create a wonderful pendant suspended from a gold chain. Drop earrings are also available to match the layered leaves necklace. The earrings include 4 leaves, carefully linked together by hand to allow them to shimmer and show off their beautiful rich yellow golden finish.
The Layered Leaves jewellery has been added to the golden leaves collection at London Road Jewellery; The single Golden Leaf drop earrings are simply stunning and have previously featured in John Lewis Edition Magazine. The single Golden Leaf collection includes a gold leaf ring with a textured finish and fluted edge making the ring quite unique. A fringe necklace with five leaves dropping from the chain.  A pendant necklace with a single golden leaf is also available, together with a pendant necklace with two gold leaves. The leaves are threaded through their stems onto adjustable chains of 16/18 inches.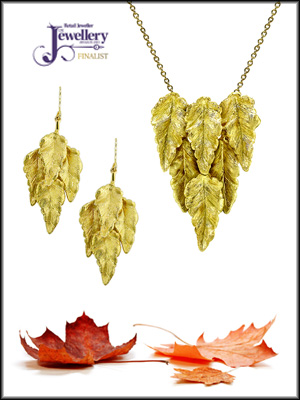 Add wonderful shapes and textures to your look through autumn. The Falling Leaves collection is stunning with clusters of rich yellow gold leaves falling from a pendant necklace. Each of the layered leaves are concave with a rich textured finish inside and soft polish finish on the top edges. The collection also includes a falling leaves bangle, ring and drop earrings.
The Kew Collection from London Road is perfect for adding style and sophistication to your autumn look, especially teamed up with burgundy, olive green and russet colours. Gold leaves are fabulous accessories for knitwear and jackets as the air begins to chill and your favourite little black dress.