5 of the most unusual gemstones: unique jewellery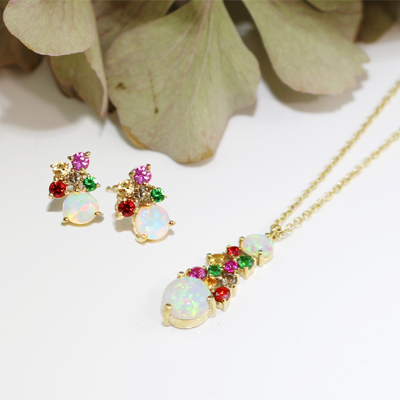 Diamonds are a girl's best friend. But for a look that really stands out from the crowd, something a little more unique is called for. Whether you're looking for a gift that goes beyond the ordinary, or want to update your own collection with a statement as individual as you are, there's a world of choice beyond the classics. Here are 5 of the most unusual gemstones to give your look that little extra magic.
5 of the most unusual gemstones – jewellery that stands out
1. Rainbow opals: statement spectrums of subtle glamour
When it comes to the most unusual gemstones, the unique properties of each opal make them top of our list. Every opal holds such an extraordinary range and depth of colour – no two stones ever look exactly the same. The result is the most sublimely subtle statement, elevating any outfit to something truly exquisite.
The combination of unusual precious and semi-precious stones in this delicate opal ring gives an extraordinary pop of colour. The stunning cluster is brand new to our Harlequin collection and it's a must-have for anyone who loves the rare and unusual.
Opal is the birthstone for October and the national gemstone of Australia, where most of the finest specimens are found in Queensland, home of the Great Barrier Reef. The spectrum of iridescent colours recalls tropical waters and jewel-coloured treasures – adding a hypnotising flare to the wearer.
When some of the most unusual gemstones (think opal, pink sapphire, orange sapphire, tsavorite garnet and cappuccino diamonds) are combined in a single piece like this, the result is a highly wearable statement piece that will make any outfit stand out.
In the words of style icon Iris Apfel, "Life is gray and dull; you might as well have a little fun when you dress."
2. Beyond blue: A fresh selection of sapphires
Many of the most unusual gemstones are precious stones you might already have heard of. What makes them different is their unexpected colours. Our new rainbow collection is made up of an array of sapphires, going beyond blue in a juicy array of bright jewel tones.
Showcasing a full spectrum of rainbow sapphires against delicate yellow gold is a bold and fun design that's perfect for lovers of demi-fine jewellery – and those who prefer their precious stones to have a playful side.
Birthstone for September, sapphires have a special glow that can't be replicated and these exciting tones combined together here, amplify their beauty.
The colourful combination of these precious stones is bound to be a talking point – the colours really "pop" from their beautiful gold setting. Pair them with geometric patterns or show off against a little black dress for maximum effect.
Every stone is hand picked for its beauty and our team of dedicated artisans –designers, goldsmiths, setters and polishers – take exquisite care of every design detail, here in our family-run London workshop.

3. The golden quartz you've never heard of
Rutilated quartz is a gorgeous cinnamon-toned transparent stone, containing a multitude of tiny gold "needles" or "threads". The swirling organic patterns vary from an almost translucent effect to one filled with delicate fibres. This means that each piece is a genuine original. A most unusual gemstone indeed…
Quartz is considered to have powerful healing and cleansing properties, and to promote clarity and focus. It's also associated with love, resulting in the other names by which rutilated quartz is known – "venus hair" stone or "Fleches d'amour" (love arrows).
The simple yet stunning design of this Sloane ring results in a piece of jewellery which really makes a statement. The classic gold sets off the bold qualities of this richly-toned stone perfectly.
The perfect gift for anyone who wants to stand out in the style stakes, without being flashy or garish.
4. The flame-coloured crystal
When it comes to the most unusual gemstones, fiery Carnelian has to take the crown as one of the oldest, and most beautiful. For over 4 millenia it's been prized for its stunning warm tones of orange and red. Given its fiery colours, perhaps it's no surprise that it's considered to ignite passion, creativity and playfulness.
Sometimes known as the "singer's stone", it's recommended for use by public speakers or those wanting to find their voice. Grammy award winner and well known crystal lover Adele has been spotted wearing Carnelian jewellery. As a result, it makes a great choice for anyone preparing to speak in public or to find courage to embrace a more visible side.

5. Classic pearls – fresh aesthetic
Pearls might be the last thing you'd expect to find on a list of the most unusual gems, given their classic associations. Pearls are the birthstone for June, and a classic choice for brides, but beyond their traditional associations, their lustre and exquisite shape makes them a striking choice in less familiar tones.
Here at London Road we've extended our love of the offbeat and unusual to include pearls in a whole range of unexpected colours and settings, from deep peacock grey to delicate blush pink, as well as classic white pearls in striking modern designs.
Pearls have been enjoying a renaissance lately. As Vogue noted, "Pearls have become so popular that you can't even scroll through your Instagram feed or a street style gallery without spotting them on the ears of a stylish woman."
So how do style mavens remain on top of the latest trends without becoming lost in the multitude of copycats and style followers?
They reach for unique twists – for example, the clean designs of a simple single pearl pendant, bar gold necklace, or signet ring. Or perhaps it's peacock-grey earrings or a contemporary willow design.
Which of these most unusual gemstones calls to you?
So there you have it: 5 of the most unusual gemstones out there. With decades of experience sourcing exquisite gems, and a commitment to selecting the most dazzling colours it's no surprise we're renowned for our modern interpretations of fine gemstones.
Each of these pieces is sure to create a memorable and fascinating outfit; each has a story to tell.
Which one will you choose?